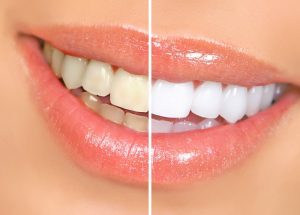 One of the most common complaints that people have about their smile is the color of their teeth. Even with good brushing and flossing, your teeth can become dull, yellowish, or discolored over time. There are many reasons why your teeth become discolored. Drinks like coffee, wine, and soda can all stain your teeth over time. Frequent tobacco use can also cause your smile to have a yellowish look. Naturally, as you age, your teeth can lose their white appearance and become more and more discolored. Poor dental hygiene and certain medical conditions and medications can also play a factor. With our teeth whitening treatments, we can make your smile shades brighter.
About Teeth Whitening
Professional teeth whitening is one of the most popular and least invasive cosmetic dental procedures. With teeth whitening, you can reverse years of staining and discoloration in one single treatment. The whitening process uses a bleaching gel that whitens discolored particles deep within your teeth, changing their color from the inside out. It is completely safe and will not damage your enamel.
Teeth Whitening Options
For your convenience, we offer two different types of teeth whitening. The first is our professional at-home whitening system which whitens your teeth over time using whitening gel and trays. The second is our ZOOM in-office whitening, which can make your teeth four shades lighter instantly.
Our at-home whitening system is a safe, effective, and extremely convenient way to get a whiter smile. We provide our patients with professional-strength whitening gel and custom-made whitening trays. Our at-home solution takes a little longer than in-office whitening; however, it has a lower risk of causing sensitivity after the procedure and lasts longer as compared to the other over-the-counter options.
If you are looking for instant teeth whitening, we offer ZOOM. ZOOM is a light-activated system that can lighten your teeth up to four shades in the office and then custom trays are taken home to continue the whitening process. ZOOM is performed by one of our staff members and will leave you with a whiter, brighter smile instantly.
At Postle Dental Group, we want you to have a smile that you are proud of, which is why we offer teeth whitening. If you have any questions or want to learn more about our whitening procedures, please give us a call today at (614)-850-0446.