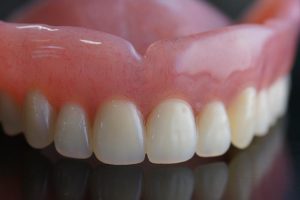 Dentures are a convenient and affordable option for missing teeth. Periodontal disease, advanced tooth decay, and dental trauma can all lead to tooth loss. Missing teeth can make simple things like chewing, smiling, and talking incredibly difficult. If you are missing most or all of your teeth, dentures may be a good treatment option for you.
About Dentures
A denture is made of either ceramic or acrylic teeth that are secured to a plastic base. The base is designed to look like gum tissue, and the entire appliance is crafted to look as natural as possible. With dentures, you can chew your favorite foods, speak normally, and smile with confidence. They will help restore the fullness of your face, making you look healthier and younger. There are two types of dentures; full and partial. The team at Postle Dental Group will look at your missing teeth and analyze your overall oral health to determine which dental appliance you will need.
Candidates for Dentures
If you are missing most or all of your teeth, you are likely a good candidate for dentures. You will need to have enough healthy jaw and gum tissue to support the appliance. When you come see us, our team will help you decide if dentures are the best course of action or if you should explore other teeth replacement options.
Caring for Your Dentures
Dentures can last for a long time when they are properly cared for. To preserve your appliances, make sure you remove them after eating and rinse them carefully to get rid of any food particles. It's important to be very careful when you take them out. Dentures are fragile and can easily shatter if dropped. It is also essential to clean your mouth after every meal. Use a toothbrush and toothpaste to thoroughly clean your gums, cheeks, and tongue.
When you are not wearing your appliance, make sure to soak it overnight. It is also vital to see your dentist for regular cleanings and checkups. Your dentures will change shape over time, and will need to be corrected and adjusted accordingly.
Missing teeth can be a hassle, but luckily, dentures can be used to restore the look and function of your smile. If you are looking for a tooth replacement option, call Postle Dental Group today at (614)-850-0446 to schedule a consultation. Together, we can decide if you are a good candidate for dentures and make your smile as good as new again.