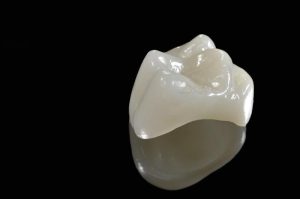 If your tooth is damaged, cracked, worn, decayed, misshapen, or discolored, you may be a good candidate for a dental crown. Additionally, if you have a root canal, receive a dental implant, or have a cavity that is too large for a dental filling, you will need a dental crown.
About Dental Crowns
A dental crown is essentially a cap that fits over your tooth. Crowns are custom made to look like your natural teeth. They are color-matched and specifically crafted from molds and measurements of your mouth. Before you get a crown, the dentist will prepare your tooth so that the crown can fit over it. Your crown will restore the shape, function, and structure of your tooth and will help you eat and chew normally.
Purpose of Dental Crowns
As mentioned above, a dental crown can be used for many different reasons. Essentially, if a tooth is badly damaged and the structure of the tooth is compromised, a crown can help restore it. Our goal is to preserve your natural teeth at all costs and crowns are a great tool to help with this. Dental crowns are also part of other procedures. Crowns are used to hold dental bridges into place and cap off root canals and dental implants. Crowns can be used for cosmetic procedures as well. If your teeth are discolored or misshapen, a crown can help them look as good as new again.
The lifespan of Dental Crowns
The lifespan of a dental crown is normally between five and fifteen years. However, some can last much longer than that. To keep your crown for as long as possible, it is important to care for it properly. Caring for your crown is easy- just make sure to maintain proper oral hygiene habits on a regular basis. Brush and floss every day and have dental cleaning appointments every six months.
If you think that you could benefit from a dental crown or would like to learn more, please call Postle Dental Group at (614)-850-0446. Dental crowns are a great restorative and cosmetic tool and can help us save your natural teeth.