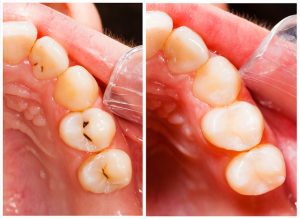 If your teeth are damaged or decaying, it may be time for a filling. A filling can help restore the size, function, and shape of a tooth that has been affected by tooth decay.
About Dental Fillings
When a tooth suffers from decay, it is often left with a cavity. A cavity is a hole created in the tooth that is filled with bacteria. If a cavity isn't treated, the decay will continue to spread throughout the tooth. If the decay becomes too severe, the tooth may require extensive treatment to save or may need to be extracted. To prevent this from happening, you will need a dental filling. During a filling, we will remove any decayed material from within your tooth. We will then thoroughly clean the affected area and fill out the newly cleaned cavity with a filling material.
Benefits of Composite Fillings
Composite fillings are made from tooth-colored resins and are designed to blend in with your natural teeth. They are very durable and resistant to fracturing and breaking. Because of this, they can successfully withstand the pressures of chewing and eating.
Composite fillings are placed in layers until the cavity is successfully filled off and sealed. After they are placed, the resin is hardened with a blue LED light. When the resin is hardened, it will look and function just like your natural tooth and help stop bacteria and decay from spreading.
If you are suffering from tooth damage and decay, Postle Dental Group can help mitigate this problem with composite fillings. Composite fillings allow us to protect and restore the look of your tooth. To learn more about composite fillings, contact our office today!